So this past Sunday we had the chance to take in Country Day at Rogers Center with the Toronto BlueJays. Maybe I should start off by saying I don't overly enjoy baseball.  But the thought of mixing country music with America's favorite pastime I thought sure why not give this event a try.  I had wanted to attend last year but wasn't able to last-minute.  This year it was a must.
So, I loaded up the car with my 3-year-old son and headed to the ball park.   This was my first game in a while. Ok, maybe years, so I must admit I was a bit excited.  My son however, was ready to be at the ball park before we even left the house.  He was pretty darn excited to take in his very 1st baseball game. We went down to Rogers Center early as we knew the CCMA Female Vocalist of the Year Jess Moskaluke was going to be performing around 11:30 and wanted to take in some of the #CountryJay festivities.
The West Jet Flight Deck was PACKED with folks line dancing, catching the live performance and of courese the the cool photo ops.  There was so much going on… Boots and Hearts was in attendance in a BIG way. From the games to the photo ops.  The place was packed with people taking it all in.   Here are a few shots of what was going on at the Flight Deck…
It was so great to see Jess in this really fun atmosphere and you could tell she was enjoying it with the smiles during her performances and taking the time to talk to fans.   Also in attendance was Chad Brownlee.  Chad sang the anthems and have to say he slayed them both. Hey Leafs how about a Country Night when Nashville is up for a game and bring Chad back to Toronto for it.  Just a suggstion.
Next on the roster was… Gord Bamford who threw out the first pitch (Ball) just for the record Gord…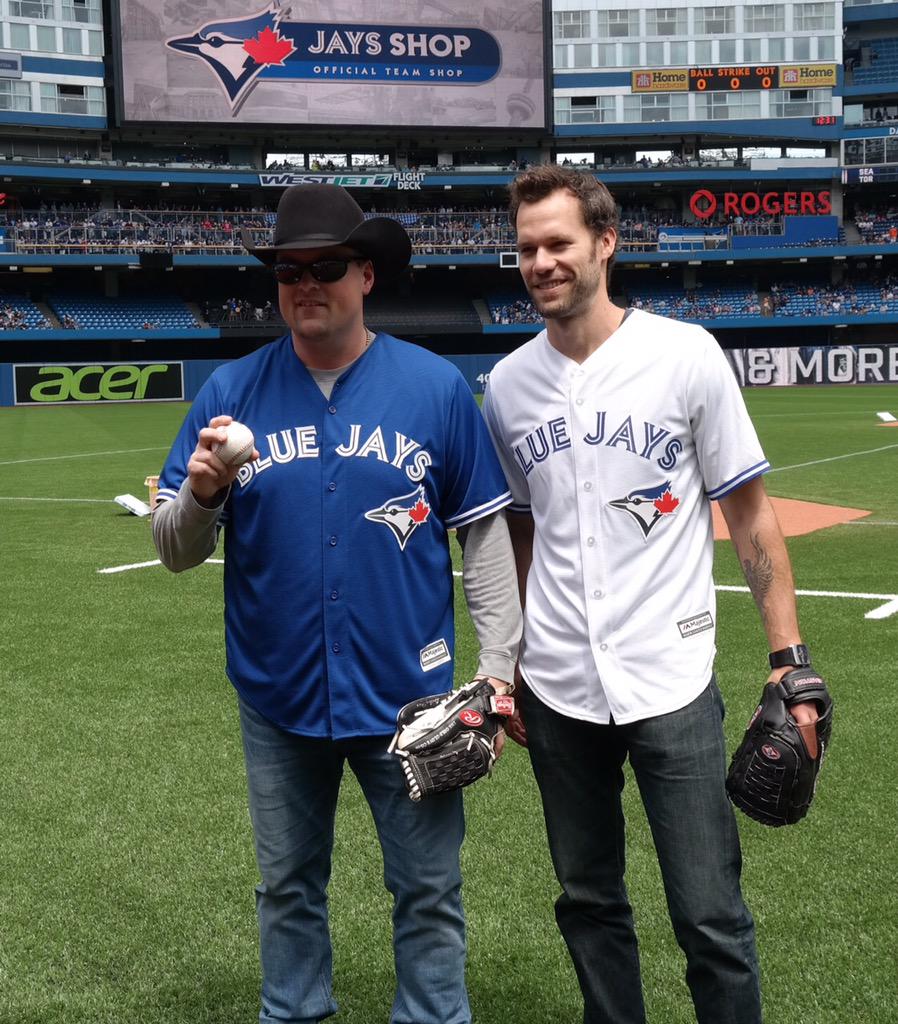 The game began and Gray & I took our seats to catch the first couple innings while the beautiful bright sun wasn't too hot with the dome opened it was just majestic in the park.  Oh, and when I had mentioned earlier that Boots and Hearts was in attendance in a BIG way.   Much like last year the amazing team at B&H came with a bag full of passes to the August 6th-9th weekend!  How many I am not really sure but I can tell you there were some pretty excited attendees walking out of the park with $450 worth of admission.   The Jays really put on a GREAT day at the park.  We want to thank the fine folks at the Blue Jays Organization for having us and we look forward to the big day again next year.  With 38,000+ in attendance and 20,000 leaving with a great Staw Cap and a smile on thier face with the big 8-2 Win.
Corey Kelly / @CoreyKelly76